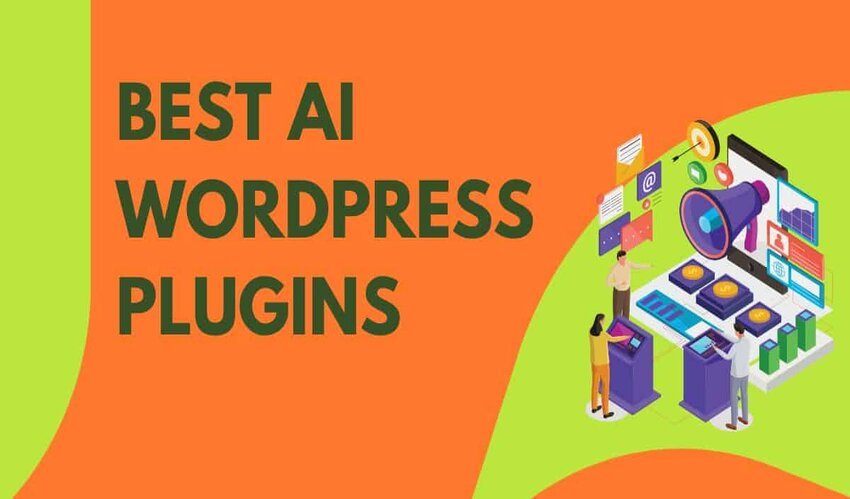 Artificial intelligence is transforming how we create and consume content online. As AI capabilities grow more advanced and accessible, many WordPress users are keen to leverage these technologies on their sites.
The right WordPress AI plugin can help you write better content faster, engage visitors through chatbots, optimize pages for SEO, and more.
We've tested and reviewed the top options to recommend the best WordPress AI plugins available in 2023.
Key Takeaways:
SEOPress is the best for optimizing large sites for search engines with AI-generated metadata.
AI Engine excels at adding chatbots with custom personalities to engage visitors.
Bertha AI generates product descriptions, long-form content, and images with AI.
ContentBot AI Writer helps create long articles quickly with an easy-to-use interface.
CodeWP uses AI to generate shortcodes, complex queries, and code for WordPress developers.
Now let's explore the features and use cases of the top 5 AI plugins for WordPress:
1. SEOPress – Best for AI-Powered SEO
SEOPress is one of the most powerful WordPress SEO plugins available. With over 1 million active installs, it's a popular choice for optimizing large websites.
What makes SEOPress stand out is its integration with OpenAI to auto-generate SEO titles and meta descriptions. This AI integration comes with the SEOPress Pro plan.
Key Features:
Uses OpenAI's Davinci engine to generate titles and descriptions in bulk.
Supports optimization for 9 languages: English, German, French, Spanish, Italian, Russian, Portuguese, Arabic, and Dutch.
Features hundreds of built-in templates for meta titles and descriptions.
Syncs seamlessly with Google Analytics.
Offers on-page content analysis to recommend optimizations.
Comes with advanced sitemap functionality.
For enterprise websites or online stores with thousands of pages to optimize, SEOPress is an excellent choice. The AI saves a ton of time crafting metadata manually.
Developers plan to expand the AI capabilities in future versions too. So SEOPress is on the cutting edge of leveraging AI for better SEO.
When To Use It:
Optimizing large websites with hundreds/thousands of pages.
Generating SEO titles and descriptions in multiple languages.
Syncing your SEO efforts with Google Analytics.
Sites where you need to optimize many pages quickly.
Pros:
Powerful SEO plugin with AI integration.
Affordable Pro plan at $49 per year.
Strong ratings and large user base.
Cons:
AI limited to meta title/description generation (for now).
Must upgrade to Pro plan to access AI features.
Pricing:
Free version available.
Pro plan: $49 per year.
For large and complex WordPress sites that require robust SEO tools, SEOPress is a top choice to consider in 2023.
2. AI Engine – Best for AI Chatbots
AI Engine is a rising star among WordPress AI plugins. It makes conversational chatbots accessible to any WordPress site.
After creating a free OpenAI API key, you can add chatbots powered by GPT-3 anywhere on your site.
The simple drag-and-drop interface allows full customization of your chatbot's name, personality, dialect, speech style, and more.
Key Features:
Build chatbots with context-awareness and memory.
Monitor chatbot usage within WordPress admin.
Add an AI Playground to your site for visitors to interact with the chatbot.
Utilize the API to connect AI Engine with other plugins.
Choose different AI engines like GPT-3, Anthropic, or Google's LaMDA.
AI Engine makes chatbots fun and easy for any WordPress site. Instead of giving visitors more forms to fill out, a chatbot creates engaging conversations.
When To Use It:
Adding an AI-powered chatbot to your site.
Creating a conversational interface for visitors to get information.
Building a customized AI personality for your brand.
Providing support or answering common questions.
Pros:
Simple customization and setup.
Options to select different AI engines.
API for expanding capabilities.
Active development and support.
Cons:
Some features are still in beta.
OpenAI usage costs add up for high traffic sites.
Pricing:
Free version available.
Pro plan starts at $29 per year.
For the latest in conversational AI, AI Engine is a top choice in 2023. The possibilities are expansive for chatbots that visitors love interacting with.
3. Bertha AI – Best for AI Content & Images
Bertha AI specializes in using AI to assist with content creation. It's built using GPT-3 to generate text, write descriptions, and create images.
After installing the plugin, you'll see Bertha herself! She pops up in WordPress to provide writing suggestions as you work.
Bertha AI shines for ecommerce sites by automatically generating product descriptions and tags. Just give it a product name, and Bertha provides unique paragraph-length descriptions.
Key Features:
Creates full-page content blocks from short prompts.
Generates endless product description variations.
Produces images from text descriptions.
Paraphrases and summarizes content.
Optimizes content for SEO with long-tail keywords.
Integrates with all major page builders and ecommerce plugins.
For bloggers and online stores, Bertha AI can save a tremendous amount of time creating content and optimizing pages.
When To Use It:
Automatic generation of product descriptions.
Writing SEO-optimized content quickly.
Producing images to accompany blog posts.
Paraphrasing or summarizing content.
Pros:
Dexterous AI content and image creation.
Pay-as-you-go pricing options.
Smooth integration with WordPress.
Cons:
Expensive yearly plans.
No chatbot functionality.
Pricing:
Free version available.
Yearly plans start at $450 per year.
Pay per generated content options available.
While one of the pricier plugins, Bertha AI is worth it for the time savings around content creation and SEO.
4. ContentBot AI Writer – Best for Long-Form Content
True to its name, ContentBot was designed specifically for content creation. The AI assistant integrates directly into WordPress for writing blog posts and landing pages.
ContentBot leverages the power of GPT-3 to continue text from a starting prompt. You can write a few sentences, have ContentBot keep extending the content, then edit to your liking.
There are also pre-built templates for full blog posts, tweets, emails, and more. Just insert a few keywords, and ContentBot handles the rest.
Key Features:
Drag-and-drop post editor to collaborate with the AI.
Pre-written templates for different content types.
Paraphrasing and summarizing tools.
Adjusts tone and wording for different target audiences.
Checks for plagiarism.
Available in over 20 languages.
For bloggers and marketing teams, ContentBot is a productive assistant that saves time writing posts.
When To Use It:
Creating blog posts or articles quickly.
Producing various types of marketing copy (emails, social posts, etc.).
Rephrasing or summarizing existing content.
Optimizing writing for different target audiences.
Pros:
Simple and intuitive UI.
Quick long-form content generation.
Cons:
No image creator.
Free version lacks key features.
Pricing:
Free version with limited features.
Pro plans start at $19 per month.
Enterprise pricing available.
ContentBot excels at long-form writing. If you need an AI boost for blog posts and other articles, it's a leading choice.
5. CodeWP – Best for AI Code Generation
For developers building WordPress sites, CodeWP is an AI coding assistant. It generates PHP, JavaScript, CSS, and more on demand.
CodeWP has over 50 "modes" tailored to specific plugins, page builders, and setups. This specialized training creates extremely accurate snippets.
The plugin integrates right into WordPress for quick code generation as you work. Code suggestions pop up in a simple dropdown.
Key Features:
Dozens of modes for major plugins like WooCommerce, Memberships, and RankMath SEO.
Modes for Elementor, DIVI, Avada, and other top page builders.
General code completion for HTML, CSS, PHP, JS, and SQL.
Contextual code recommendations based on your current work.
Constantly adding new modes and training datasets.
For developers, CodeWP is like having an AI pair programmer available at all times. It eliminates tedious coding work and speeds up development.
When To Use It:
Building WordPress sites as a developer.
Working with complex plugin configurations.
Writing custom page templates and complex theme code.
Creating advanced customized functionality.
Pros:
Huge time saver for developers.
New modes are added frequently.
Affordable paid plan.
Cons:
Currently no option for custom modes.
Pricing:
Free version with limited generations per month.
Pro plan: $96 per year.
CodeWP delivers huge value, especially for developers working extensively with WordPress. It's one of the most innovative AI tools for coders in 2023.
Which WordPress AI Plugin Is Right For You?
With WordPress powering over 40% of all websites, AI integration has vast potential to change web building and management.
Choosing the right AI plugin depends on your specific goals:
For AI SEO at scale, go with SEOPress.
To engage visitors with smart chatbots, try AI Engine.
If you need loads of content fast, Bertha AI and ContentBot AI are excellent.
For easier WordPress development, pick up CodeWP.
As artificial intelligence progresses, we can expect even more capabilities from these handy WordPress plugins. The future looks bright for website owners leveraging AI!
To learn more about building or growing your WordPress site, feel free to contact our WordPress development company in India. We offer flexible solutions to help brands and businesses unlock the full potential of WordPress.
Author Bio: 
Nirav Patel, a WordPress Web Developer from the dynamic team at Simplior Technologies Pvt Ltd, is renowned as a leading WordPress Development Company in India. His expertise covers a wide range of custom WordPress solutions, plugin development, and the creation of seamless user experiences. As a member of the Simplior team, we possess the knowledge and experience necessary to provide outstanding WordPress web solutions tailored to meet your unique needs.
LinkedIn Profile: https://www.linkedin.com/in/nirav-patel-a44a58114/